The chopper service is the newest offer of the ride-hailing app company
By Chrisee Dela Pz/Rapple
—November 24th, 2015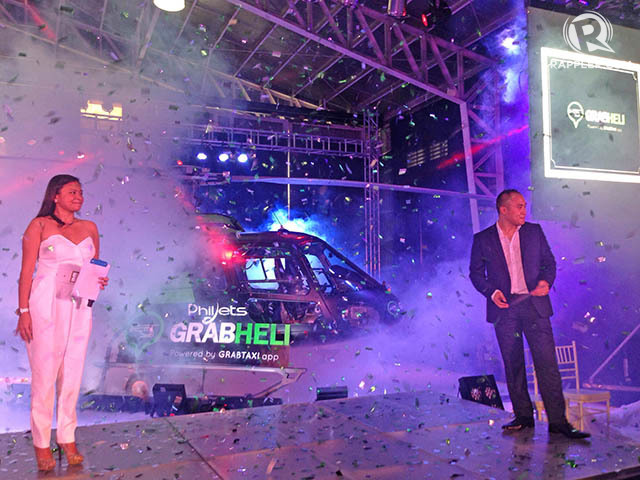 MANILA, Philippines – On-demand ride-hailing app company GrabTaxi on Tuesday, November 24 launched two new services in the Philippines: card payment option GrabPay and chopper service GrabHeli.
GrabCar, which became the first ride-sharing app to accept cash transactions for rides, has added credit and debit cards to its payment options.
Passengers of GrabCar, GrabCar+, and GrabHeli now have the option to pay with their credit or debit cards through GrabPay.
"Now that we've established the brand, we want to be able to reach out to the credit card users and make the app accessible to virtually anyone with a smartphone," Khriztina Lim, country head of Marketing for GrabTaxi Philippines, told reporters on the sidelines of a launch in Pasay City.
To register, GrabTaxi passengers need to enter their credit or debit card details in the payment section of the settings, wait for approval, and when they book rides, they will be able to select the newest payment option.
GrabTaxi partners with PhilJets
GrabTaxi also formally introduced its exclusive partnership with PhilJets for its pre-booking chopper service GrabHeli.
GrabHeli, a pre-booking helicopter service, is the ride-hailing app's latest innovation, which is in its beta stage and will be tested for 3 months. PhilJets, meanwhile, is providing helicopters and jets charter, not only in the Philippines but throughout the entire ASEAN region.
"We're very happy to partner with GrabTaxi Philippines. In the 2 years they've been in the country, they've proven that they're a formidable company to be associated with and this partnership promises a ride to remember," PhilJets Group CEO Thierry Tea said during the media launch.
"GrabTaxi has been in the Philippines for a few years now and we're launching GrabHeli as a way to thank the passengers who have always supported us and stood as witnesses to our growth," Tea said.
For P3,888 ($82.57) per person, passengers registered with GrabPay can fly around Manila in an aerial tour of Makati City, Bonifacio Global City, and Pasay City.
GrabCar promo codes will be given to GrabHeli passengers to take them to or from PhilJets' helipad at the Manila Domestic Airport.
"Through our partnership with PhilJets, we've made it possible to just buy a minimum of one seat on a helicopter and you're good to go with GrabHeli," GrabTaxi Philippines' Lim said.
Pre-booking a GrabHeli will be available weekly from Saturdays to Wednesdays through the GrabTaxi app, with fixed flight schedules at 4 pm during Fridays and Saturdays. –Rappler.com