PhilJets Group (Aviation & Aerospace Industry)
MANILA, Philippines – February 10th, 2015
2014 has been a particularly active year for PhilJets Group and its team. Created only 2 years ago, the company benefited from high and intense growth, which allowed an important development of both activities and projects.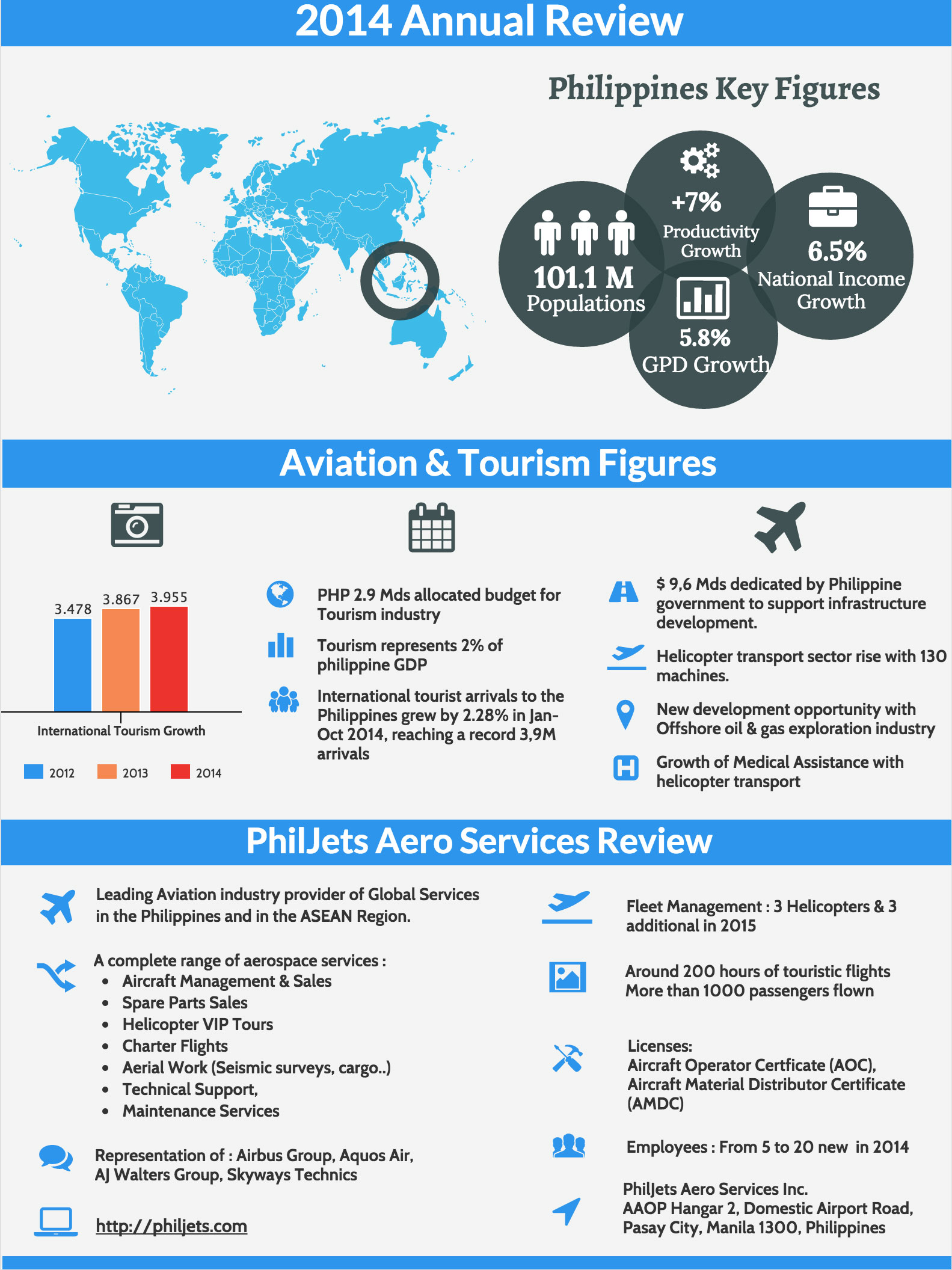 1. The Brand New EC130 T2 & new Charter offers
The delivery of the new EC130 T2 helicopter on March 2014 has underlined PhilJets's wish to reinforce its management services, and its focus on chartering and tailor-made VIP transport services. This Airbus Helicopter EC130 T2 is the one and only of that kind available for charter in the Philippines. The standard and quality of its equipment make it the perfect option for comfortable tourism flights, or helicopter aerial works.
Equipped with extra features such as the iPad-controlled GoPro camera and On-board Wifi, this aircraft provides the highest standard in aviation in the country. Additional safety installations, such as the SpiderTracks GPS & Satellite tracking system with Emergency localization, usually used in the Oil & Gas industry, ensure the security and seriousness of each flight operated by PhilJets Aero Charter Corp.
Thanks to those equipment, PhilJets' EC130T2 is a model of safety and reliability in the Filipino aerial transport sector.
Further to new helicopter arrival, PhilJets has also developed its tourism charter flights and packages with special VIP tours in Metro Manila and around. Manila, Corregidor, Taal Volcano, Mount Pinatubo and Banaue are some of the stunning destinations you will now enjoy from the sky using the most elegant aircrafts. Furthermore, putting forward the SkyCard, PhilJets now offers the only Block Hours Card Program available in the Philippines. Addressed to frequent travelers or businessmen with specific requests and recurrent needs for transfer around the country, this program proposes the most customer-oriented service in the local industry.
2. Pres. Aquino Official Visit to Europe
September 2014, was marked by the historic visit of President Aquino to Europe and the United States. Since Cory Aquino's last visit, a quarter of a century ago, none of the Philippines presidents has come in Europe.
The president's delegation was composed of Government officials, CEOs and top-management representatives of major activity sectors in the Philippines. PhilJets accompanied the delegation, represented by Mia Malanyaon, the Commercial Aviation Department Manager of PhilJets Group.
Underlining stability and reliability of his country's economy, President Aquino has invited during his visit in Paris, French companies to invest and develop further in the Philippines. "French companies must come, we have plenty of needs that they can satisfy," President Aquino said; noted that Airbus Group was already a significant partner in the country. PhilJets, who precisely maintains close contacts with Airbus Helicopters and remain the main advisor for Airbus Group in the country, embodies this intended collaboration recommended by the Filipino government.
3. Typhoon Hagupit Relief Missions
The end of the year 2014 was sadly stricken once again in late December by the Typhoon Ruby (Filipino name: Bagyong Hagupit). PhilJets, in an effort to provide highly responsive Disaster Relief services, has reiterated its support and commitment to the affected populations by making its fleet of helicopters available for the famous French NGO Doctors without Borders (Médecins Sans Frontières). Deploying two Airbus Helicopters aircrafts, the AS350 B2, and the EC130 T2, Doctors Without Borders assessed the stricken areas of Samar and Leyte from their base in Tacloban, visiting the cities of Guiuan, Balangiga and Catarman in the Visayas. Finally, the International Committee of the Red Cross (ICRC) deployed as well the twin-engine AS365 helicopter to Catarman, San Jose de Buan, and Catarman with the help of PhilJets for their own post-typhoon assessment flights.
4. PhilJets' involvement in AIAP
During the course of the year, PhilJets has increased its participation and involvement in the Aerospace Industries Association of the Philippines (AIAP), which aims at helping its members achieve sustainable projects and growth of the Filipino Aviation business. This association gathers various types of enterprises in the Aerospace sector to work and contribute together for the development of the Philippine Aviation Industry, locally and worldwide. In this way, PhilJets reinforces both role and voice in the aerial sphere and thereby presents itself as a valuable assistant for aviation-related projects and an experienced consulting firm for development of partnerships in the Philippines.
5. PhilJets growth in 2014
Moreover, this year has reflected the fast growth of the firm into a group of companies servicing all sectors of the aviation industry. In 2014, the company grew from 5 employees to more than 20 collaborators in Manila alone. PhilJets Group meanwhile implemented a restructuration of each of its departments into independent business units with a strong focus on Commercial Aviation, Charter Department, Aircraft Sales & Aircraft Management, MRO and Spare Parts, Marketing, Representation, and Consulting.
The Group has welcomed 6 new qualified employees to help build and sustain PhilJets growth and projects. Katherin T. Congmon who manages Public Relations and Commercial accounts for PhilJets, in particular for the Charter activities. Editha Juguan as Marketing Consultant for the company, with more than 12 years experience in the industry. PhilJets will rely on Joe Arcilla, the new Sales Director, a Private Jet specialist after spending years working at Cessna, to drive the Aircraft Sales department. He will work hand in hand with Geoffroy Cahen, a French recruit who supports Aircraft Sales for the group, and assists clients in their search for the right helicopter or jet. Jeremy Lam, another French citizen, is now the second Commercial Aviation Salesperson of the firm, catering to major Filipino carriers and Airlines such as Cebu Pacific, Philippine Airlines and PAL Ex, Air Asia Zest, LTP, SIAEP. He benefits from a good knowledge of the Filipino market, after a former experience in the helicopter segment at Eurocopter. Finally, Augustus "Choy" Elciario joined the Charter team as a Sales Executive to increase PhilJets' sales force on the segment, by bringing its 10 years experience on rotary and fixed-wing private transport.
With a fleet increase of three additional aircrafts and one fixed wing jet, 2015 is a promise of an intense year for PhilJets Group. By means of strengthened resources and skills, the company is expected to be the reference in terms of aircraft sales consultancy & brokerage services in the Philippines and in the meantime will develop itself into a fully-grown charter and fleet management company.
On the commercial aviation side, more requirements and more opportunities are expected due to the blooming development of South East Asia countries. Airlines are growing their fleets in order to answer to the increasing demand. Concurrently, Philippine Airlines is planning to add 38 aircrafts to its fleet by 2024. Cebu Pacific as well will add another 50 in 2021. PhilJets thus intends to answer their increasing needs for spare parts and professional maintenance and repairs through its partnership and exclusive distributorship with the worldwide renowned provider, AJW Aviation.
For further information, please contact:
Boris Chevreau, Marketing Manager, PhilJets Aero Services, Inc.
M: +63 998 964 0347 | P: +63 (2) 851 02 48 | E: boris.chevreau@philjets.com
PhilJets Aero Services Inc is a leader in the Aviation industry providing Global Services in the Philippines and in the ASEAN Region. Philjets' customers include General Aviation firms, Commercial Airlines, MRO companies and Government Agencies. Main activities of the group include General Aviation Services, Aircraft Management, Aircrafts Sales, Spare Parts Sales, Maintenance Services, Technical Support, Manpower & Outsourcing, Representation, Charter Flights, Helicopter Tours, and Aerial Work.