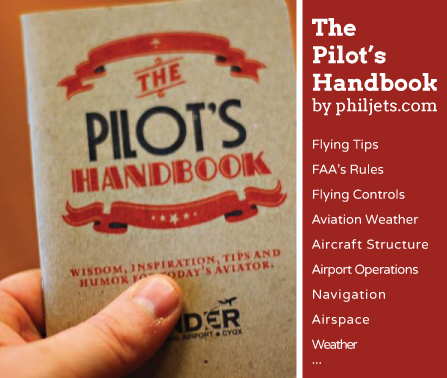 Its Wednesday guys, times for a treat!
PhilJets continues to offer you its corporate giveaways of 2014: The official FAA Pilot's Handbook of Aeronautical Knowledge, Chapters 3 and 4: Principles of Flight and  Aerodynamics of Flight.
But that's not all, we also included an exclusive chapter featuring a few numbers for calculation of fuel consumption and distances, as well as… A glossary!
Discover this special Pilot's Dictionary now!
For those who missed our last post, we remind you the concept: for the next few weeks, you will get a free chapter of the eBook, already called the "pilot's Bible" by many of our crewmembers, the FAA's Pilot's Handbook of Aeronautical Knowledge.
Sharing is Caring!
All you have to do is like our Facebook page, or spread the word by sharing this on your favorite social network using the box below. Go on, it's free!
This eBook is perfect for any student pilot, or aircraft mechanics and flight crew interested in the field who want to learn more about the job of the people who share their passion.
The new chapters are just one social share away!
For those who missed our last post, this could come handy:
PHAK – Appendix 1 : Runway Incursion Avoidance
PHAK – Chapter 01 : Introduction to Flying
PHAK – Chapter 02 : Aircraft Structure
Enjoy everyone, and don't forget to add us on Google+, Facebook and Twitter
The following two tabs change content below.
Boris Chevreau is the Marketing and Social Media Manager of PhilJets. He also participates in Business Development for the company, particularly in its Charter and Tourism activities, such as Helicopter Tours, Executive & Private Jet Charter, and Sightseeing packages.
Latest posts by Boris Chevreau (see all)