Get one Chapter of the Pilot's Bible every week, for Free!!!!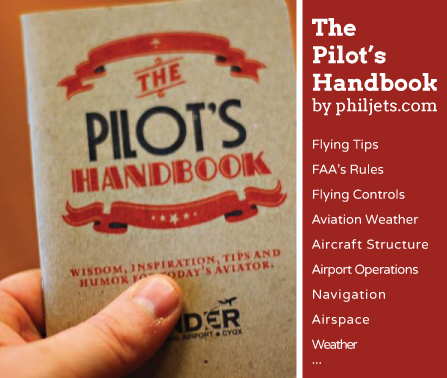 Ever wanted to learn how to be a helicopter pilot?
You dream to become an airline pilot or flight attendant but you don't know where to start? We are here to help you!
PhilJets is delighted to propose its first corporate giveaway of 2014: The official FAA Pilot's Handbook of Aeronautical Knowledge!
For the next few weeks, you will get a free chapter of the eBook, already called the "pilot's Bible" by many of our crewmembers.
All you have to do is like our Facebook page, or spread the word by sharing this on your favorite social network using the box below. Go on, it's free!
This eBook is perfect for any student pilot, or aircraft mechanics and flight crew interested in the field who want to learn more about the job of the people who share their passion.
In this book, you will find:
–       Flying tips and explanations about FAA rules (applicable to CAAP as well)
–       Normal procedures any pilot should know + Airport Operations courses
–       Training on Flight controls, Flight instruments and Navigation
–       Aircraft structure and Manuals
–       Aviation Weather theory
–       And much, much more!…
Either Like, Tweet or Google+1 this article with the links below to discover the first appendix, "Runway Incursion Avoidance" as well as the Chapters #01 and #02: "Introduction to flying" and "Aircraft Structure".
[sociallocker]
PHAK – Appendix 1 : Runway Incursion Avoidance
PHAK – Chapter 01 : Introduction to Flying
PHAK – Chapter 02 : Aircraft Structure
[/sociallocker]
Here is the Preface of the Pilot's Handbook:
Preface
The Pilot's Handbook of Aeronautical Knowledge provides basic knowledge that is essential for pilots. This handbook introduces pilots to the broad spectrum of knowledge that will be needed as they progress in their pilot training. Except for the Code of Federal Regulations pertinent to civil aviation, most of the knowledge areas applicable to pilot certification are presented. This handbook is useful to beginning pilots, as well as those pursuing more advanced pilot certificates.
Occasionally the word "must" or similar language is used where the desired action is deemed critical. The use of such language is not intended to add to, interpret, or relieve a duty imposed by Title 14 of the Code of Federal Regulations (14 CFR).
This handbook supersedes FAA-H-8083-25, Pilot's Handbook of Aeronautical Knowledge, dated 2003.
This handbook is published by the United States Department of Transportation, Federal Aviation Administration, Airman Testing Standards Branch, AFS-630, P.O. Box 25082, Oklahoma City, OK 73125.