Although helicopters are usually utilized for sightseeing and VIP transport, these versatile aircraft have much more to offer when furnished with the right set of equipment. By exploring the different ways a helicopter can be used for aerial work or industrial purposes, this article shall emphasize why rotor wings are such indispensable assets for charter operations.
A Brief History of Helicopters
The modern-day helicopter is a technological marvel. It took hundreds of years of continued innovation for the helicopter to evolve from just an ambitious concept to an all-around aircraft capable of accomplishing a plethora of missions. Leonardo da Vinci is often credited to be the first person to have come up with the concept of a device resembling a helicopter. This concept was detailed in da Vinci's sketches and was called "helical air screw", a device that was designed to compress air in order to fly. However, this idea was never made into an actual device.1
After several attempts by different people to invent a helicopter-like device capable of flight, a major breakthrough happened in 1939. Made by Igor Sikorsky, the first practical helicopter flown was the VS-300, which achieved a 14-second tethered flight. Eight months after, Sikorsky's prototype achieved free flight, a development which opened the doors for the manufacture of the first helicopter to be mass produced, the Sikorsky R-4 in 1942.2
Evolution of Helicopter Usage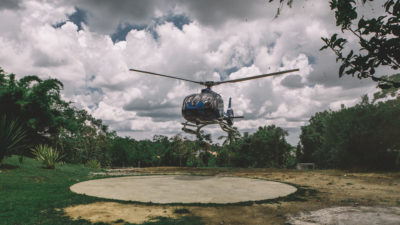 Since the pioneering work of Sikorsky, helicopters were used mainly for people transport. However, rotor wings will take on new roles as people discover the potential of these aircraft for other specialized missions.
It was only a matter of time before helicopters were used as air ambulances. During the Korean War, the use of helicopters as air ambulances greatly reduced the number of deaths caused by wounds sustained in battle. The usefulness of helicopters in war zones was even more magnified when rotor wings were utilized in the Vietnam War to carry groups of soldiers to go behind enemy lines and destroy supply lines.3
Tim Chrisman's account of the history of helicopters states that after the Vietnam War, helicopters were eventually used for civilian operations like newsgathering, hospital work, and police surveillance.
Helicopters for Industrial Use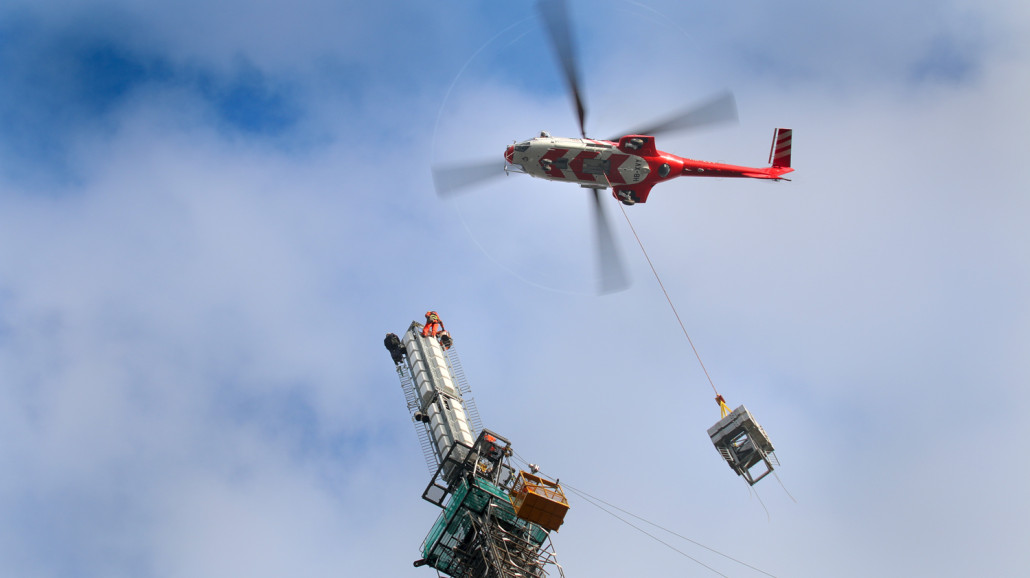 Aside from being used for civilian purposes, helicopters are also being utilized for other aerial work such as for industrial use. As industries began to discover the potential of helicopters in boosting the efficiency of their businesses, helicopters were then outfitted with different sets of equipment to enable the aircraft to function in activities like powers lines inspection, geological/geographical surveys, load lifting etc.
As a trusted provider of aircraft-related services, PhilJets is ready to respond to their clients' needs for various operations involving rotor wings. This article shall discuss several types of industrial aerial work missions that PhilJets offers on their charter and also the types of helicopters suited for those respective missions.
            Power lines Inspection
Electric companies perform a periodic visual inspection of their power lines to detect any problems or anomalies. This is usually done using helicopters equipped with external gimbals with infrared and ultraviolet cameras capable of detecting hot spots and corona discharges.3
For this kind of operation, the best-suited helicopter in the PhilJets fleet is the single-engine H130 made by Airbus Helicopters. Given the H130's eco-friendly operation and excellent visibility, this aircraft gives clients the ability to inspect hundreds of kilometers of power lines daily while minimizing environmental impact.4
Due to its agility, stability and low-vibration levels,5 the H130 can hover above power lines while providing relative safety to the crew on board. When furnished with the right set of equipment, the H130 can function really well in power lines inspection activities.
             Geological Surveys
Geological surveys are systematic investigations of specific areas with the purpose of determining distribution, structure, composition, history, and interrelations of rock units.6
 In practical application, these surveys are conducted in order to make geological maps which can be used as a reference for infrastructure projects. Geological surveys are also conducted to determine whether an area is conducive for mining mineral resources.
Helicopters are often used in conducting geological surveys. Aside from acquiring the right set of equipment, survey teams must also find a suitable helicopter. For this specific type of mission, a helicopter that can remain stable while making precise turns is preferred.
The Bell 407, another helicopter in PhilJets' fleet, has the characteristics to cater to the demands of doing geological surveys.  The Bell 407 is not only the fastest helicopter in the intermediate light category, it also has a good mix of performance and maneuverability.7
The H130 can also be used for geological surveys. The H130 is a single-engine light rotorcraft just like the Bell 407 and it also has the attributes necessary to make sharp turns and maneuvers on short notice.
But perhaps the best choice for geological surveys in the PhilJets charter is the Airbus Helicopter Ecureuil AS 350 B2. Although this aircraft is often offered by PhilJets for their aerial filming clients, this helicopter has the specifications to function properly in geological survey missions. The AS 350 B2 is equipped with gyro-stabilized aerial camera systems that are among the latest digital record decks, the most innovative geo-reference hardware in the market, and it is also a stable and maneuverable rotor craft.8
               Load Lifting
Helicopters are also often used for lifting heavy loads, especially in the construction industry. Helicopters can quickly transport objects that would be difficult or impossible to move by other means. The maneuverability of helicopters also allow them to drop their load in precise locations.9
The type of helicopter necessary for load lifting will depend greatly on what type of object needs to be carried and how heavy it is. To enable helicopters to carry external loads, a cargo hook, otherwise known as a sling is attached to the helicopter's underside or "belly".
Looking at the PhilJets fleet, the H130 and the H145 can be used for load lifting as long as the cargo isn't too heavy. The H130 can carry a maximum of 1,500 kilograms for its cargo sling load while the double-engine H145 can carry up to 1,600 kilograms.10
If the client requires some literal heavy lifting, PhilJets can also source an Erikson Skycrane if necessary. These aerial cranes are made by manufacturer Erikson Air-Crane and are specialized for heavy load lifting. The payload capacity of these powerful aerial cranes can go as high as 20,000 lbs. or about 9,000 kilograms. Because of the awesome capabilities of the Skycranes, they are in use all over the world for purposes like fire suppression, civil protection, heavy lift construction, and timber harvesting.11
What sets PhilJets apart from its competitors is the company's willingness to go the extra mile to meet the clients; demands. Aside from trying to match clients with the most suitable helicopter to answer their needs, PhilJets also employs experienced pilots who can adapt to the demands of specialized missions. PhilJets' proven track record in providing aircraft charter services and aerial work was built upon years of sincere effort to give the clients the type of service they deserve.
References: